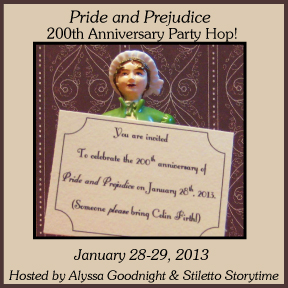 Today marks the 200th anniversary of the publication of Pride and Prejudice, easily one of the world's most read and loved novels. And in honor of such a day, Alyssa Goodnight and Stiletto Storytime have gathered a bunch of bloggers, and we're all posting something related to our first experience of this magnificent work.
As I began to consider the first time I read Pride and Prejudice, I realized…I don't have a clear memory of it. I vaguely remember a tattered, cloth-bound, red hardcover with yellowed pages… I don't know if I owned it, or if it was the library's. Maybe it was my mother's? My grandmother's? Was that the first copy I read? How old was I? Where did I live? I have no idea.
It was sort of a sad revelation, if you want to know the truth. I felt a little bit like a fraud. Surely I ought to remember the first time I read this book—surely I must have been so impressed,  so enchanted, so infuriated and then delighted that no amount of time could erase the memory… But no, sadly, I have no remembrance of first meeting the Bennets, the Darcys, the Bingleys and oh! everyone else. None. I can't remember any of my first impressions of the book that was once called First Impressions.
Then again, neither can I remember a time not knowing them. I know the characters as well as I know myself. It's almost as if Pride and Prejudice has been so long with me that it is a part of me. Lydia was a cautionary tale to me, the story of "too much" gone too far; a persistent reminder that there's a line between "liveliness of mind" and utter abandon. When I was in my teens, the line didn't seem so fine. Now, looking back (cringing sometimes at my more Lydia-like moments), the line seems stark and obvious. In my 20s, I was surprised to find myself in Mr. Darcy, who had "yet to learn to be laughed at"—and then struggled with learning such a valuable (and often difficult) lesson. I have always known that I am not nearly enough like Jane, but her indefatigable graciousness is enviable, and she provides a welcome reminder that there is good to be found. As for Elizabeth—oh!—what girl does not aspire to be like Miss Eliza? When I was young, I saw her only as a playful, intelligent, free-thinking girl—who said what she wanted and was loved for it. Today I appreciate the balance that she has: oh, she is bright and playful and brave, but her liveliness of mind is married to admirable conduct, she balances all the best that intelligent, caring, and cheerful minds produce. And that is surely a reminder, a model, to carry with me…for now, later, and, well, who knows how long.